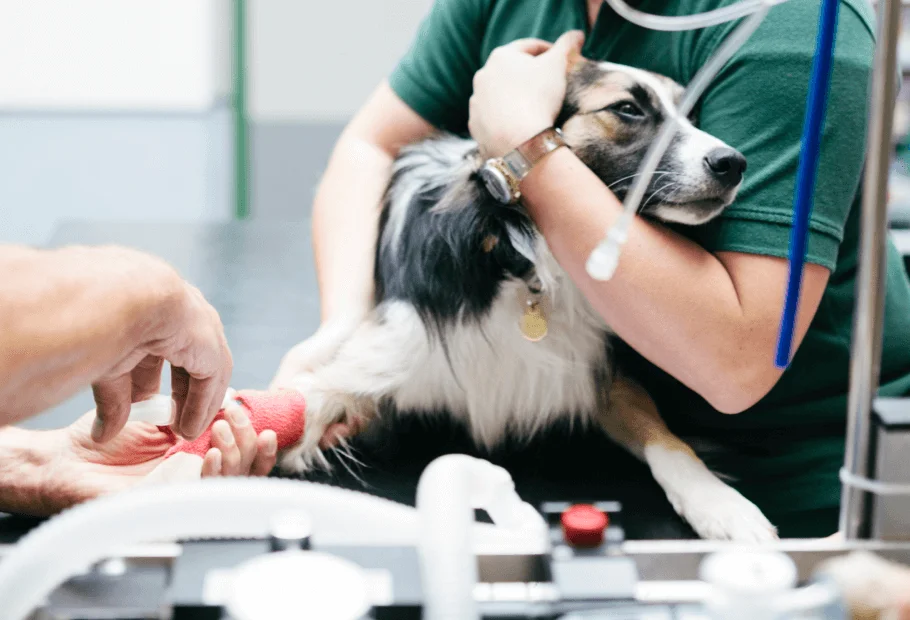 Surgery
Surgery is an effective way to treat many serious injuries and disorders. Meadowlawn Animal Services is proud to offer state-of-the-art surgical facilities and equipment along with our experienced veterinary surgeons. Our hospital provides a large number of surgical services ranging from standard spaying and neutering to advanced, highly specialized procedures.
Surgery specialties
Soft tissue
Biopsies
Orthopedic
Neurological
Dental
Ophthalmic
Foreign body removal
Patient safety and comfort is our main priority. Meadowlawn Animal Services' experienced veterinary anesthesiologists provide skilled pain management during and after all surgical procedures, ensuring your pet recovers quickly and pain-free.
Our veterinary team educates you throughout the entire process, giving you the tools to make informed decisions about your treatment options. We understand surgery is a stressful time for any owner, we are available every step of the way to answer questions and put your mind at ease.
SURGICAL PROTOCOLS
A surgical procedure might save your pet's life, add years to your relationship, or enhance quality of life. Still, we understand your concern for your pet's well-being. Be assured that we take the welfare of our surgical patients as seriously as if they were human. Our strict AAHA (American Animal Hospital Association) surgical protocols and sterile environment are designed to promote successful outcomes and rapid healing.
AAHA is a voluntary accrediting program. A veterinary hospital that holds itself to a higher standard of excellence may apply for accreditation. As little as 12 percent of animal hospitals in the United States and Canada receive this distinction.
Every case is different, but here is a typical surgical scenario at Meadowland Animal Services:
Pre-op exam – The veterinarian conducts a physical examination to assess your pet's current health status and determine if a surgical procedure is appropriate. If you are not a regular client, please be sure to bring your pet's vaccine history to this appointment – they must be up to date before a surgical procedure. For dogs, this is rabies, Bordetella, and DHLPP; for cats, rabies and FVRCP.
You drop your pet off at the hospital, the morning of the scheduled procedure for a pre-anesthetic blood panel. At this time, we also check body temperature and respiration. If the pet shows signs of stress, we administer mild, calming sedation. Our in-house laboratory returns results promptly. Information about liver and kidney function, blood sugar levels, platelets, and red blood cell count helps us safely tailor anesthetic and pain management to your pet's needs. You are notified before anesthesia and surgery if the blood work shows abnormalities.
An IV port is placed. The intravenous catheter allows medications to be administered more comfortably, and gives our surgical staff ready access to a vein, should an emergency arise. IV fluids are started, to replace fluid loss during the procedure, and to maintain blood pressure and flow of blood through the kidneys. IV fluids are optional for healthy pets under one-year-old, who are in for spay or neuter surgery.
An appropriate combination of sedative, general anesthesia, and pain management medication is administered, based on your pet's individual needs. Our number one goal is to perform the surgery safely, while your pet remains as comfortable as possible.
The animal is intubated and is given oxygen an anesthetic gas. The pet is brought to surgery table for final prepping and sterilization of the surgical site. Temperature management is an important facet of safe surgery and quick recovery. We use a heated surgery table for the procedure and take extra steps to be sure your pet remains comfortably warm during recovery.
Once the patient is under anesthesia, vital signs are continuously observed with an ECG (heart rhythm monitor), pulse oximeter (to measure oxygen saturation in the blood), and a respiratory monitor. A surgical assistant observes and records vital signs and remains with your pet until the animal is fully recovered.
The surgical site is dressed to reduce trauma and inflammation and promote healing. Pain management medications are started, and prescribed for use once your pet returns home, to minimize post-operative discomfort.
If you are considering veterinary surgery, please contact your Meadowlawn Animal Services veterinarian to schedule a consultation.